Should you have any questions, please do not hesitate to contact us.

Step 1: Put the items you wish to order into your shopping cart
Be sure to enter your prescription and quantity desired by using the drop down boxes provided.
Click [Add To Cart].
Step 2: Purchase the merchandise
There will be a confirmation page that shows you exactly what you are ordering
Please confirm your order and verify both the quantity and prescription before continuing.

To add more goods, please click [Continue shopping].
To clear the cart, please click [Clear cart and continue shopping].


If this is your first order, hit [Click here to register].
If you have ordered before, hit [Click here to check out] and go to Step4.
Step 3: Registration (new users only)
Fill in each box.
* all fields are required to be filled in.
Click [Send] button.
An authentication Email will be sent to the address entered. Please click the link in the Email in order to complete your registration.


* Registration will not complete if this steps are unfinished.
Step 4: Payment method
Credit card, PayPal, and bank transfer payments are available. Please select your choice of payment method and click [Continue].
» Details of payment method
Step 5: Shipping information
You will be presented with the registered address as your shipping address. You may change this information if you like.
When you have confirmed that the shipping address is correct, click [Continue].
Step 6: The final confirmation
Please confirm all the details.
If you wish to check the payment method details, click [Return].
If you wish to change the address for shipment, click [Return].
If you are satisfied that everything is correct and want to place your order, click [Complete my order].

Please note that we do not accept cancellations after you place an order.
Step 7: The payment process
The next step is to settle your payment. Please follow the guidance that is given during your chosen payment method checkout. When your order is complete, you will receive a confirmation email from [QUICKLENS].
[Bank transfer]
(1)Check the account detail information on the email.
(2)Make a deposit by Bank Deposit / Internet Banking.
[Credit card payment]
(1)Fill in each box.
(2)Click [Send] button.
* Those paying by credit card will receive a receipt via email.
[PayPal]
(1)Fill in each box.
(2)Click [Log in] button.
* You will receive a receipt via email.
Location of your prescription data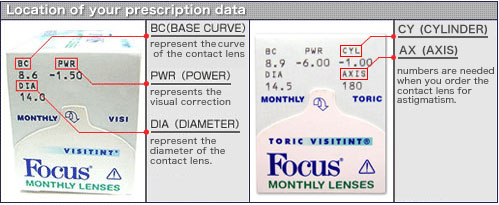 Please use the newest prescription provided by your eye care professionals.
You need to have PWR (power), BC (base curve) and DIA (diameter) information to place an order. In addition, if your contact lenses have been prescribed for astigmatism, then you need to have both CY (cylinder) and an AX (axle) data available.
Here are some examples of how to read your contact lens data from the packaging.