1 Day Acuvue TruEye 4-Boxes (120 Pack)
Availability : In Stock

* This package deal is a set of 4 boxes (2 boxes per eye).
| | |
| --- | --- |
| | There are two types of packages like the package I and II above. Please note that you may receive the two types together in a same order, however they are exactly the same product except its container. |
AU$195.20
AU$45.90 perbox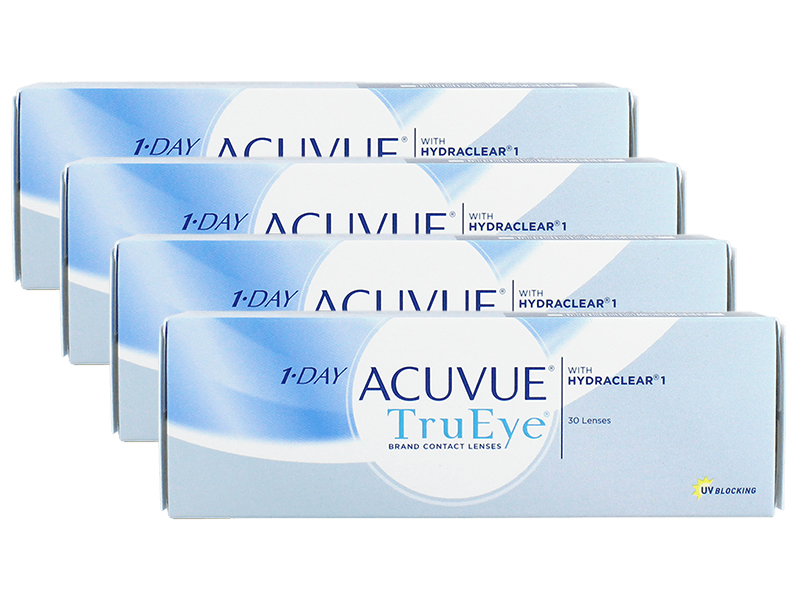 Additional Information
Type: Daily disposable
Packaging: 30 lenses per box
Content: 54% Narafilcon A (Silicone hydrogel) & 46% water
Manufacturer: Acuvue
Description
>>> Daily disposable contact lenses with the highest UV protection
>>> Healthy, clear and bright eyes
>>> Comfortable ultra-smooth lens material
>>> The convenience of a fresh, new lens every day.

1 Day Acuvue TruEye is the world's first daily disposable contact lens that is made of a new breathable silicone hydrogel material which transmits 98% of the oxygen to your eyes.

You will retain clear and white eyes as the lenses will feel comfortable even at the end of your day. The super wet and super smooth surface causes lesser friction than any other daily disposable contact lens on the market today.

This is great news for contact lens wearers experiencing pink and itchy eyes after a long day.


Daily Disposable Contact Lenses:
These soft contact lenses offer the most simplicity of handling. No cleansing solutions are needed. After a whole day of usage just throw them away and start the next day with a new fresh lens. Daily Contact lenses have become very popular because they reduce the risk of eye infections, itchy feel and red eyes compared to monthly or annual lenses. Ideal for Sports and other activities in where glasses just seem to get in the way...